Dear THTA Members & Friends,
MTCC is organizing a Social Networking Dinner Talk on the topic of "Thai Economic and Market Outlook towards next Election" by guest speakers , Mr. Montree Sornpaisarn, CFA, CEO and Mr.Sukit Udomsirikul, MD of Maybank Kim Eng Securities (Thailand) PLC. on Tuesday 11th October, 2016 at Pantip Suites Sathorn, Sathorn Soi 1, South Sathorn Road, Bangkok.
Date: October 11, 2016 (Tuesday)
Time: 6:30-9:00 pm
Venue: Pantip Suites Sathorn Soi 1 (MRT Lumpini then walk into the)
Cost: THTA Members 380 Baht/person
Non-members 450 Baht
For booking, please fill in the online reply form
https://goo.gl/forms/7JVxhwdaUvRvlVJ42
and return by Friday 7th October, 2016.
*Cancellation & No Show Policy:  Reservations not cancelled within 3 business day of the event will be charged as a "NO SHOW" and invoiced. 
On this occasion, you are cordially invited to participate in the event. Details are as invitation below.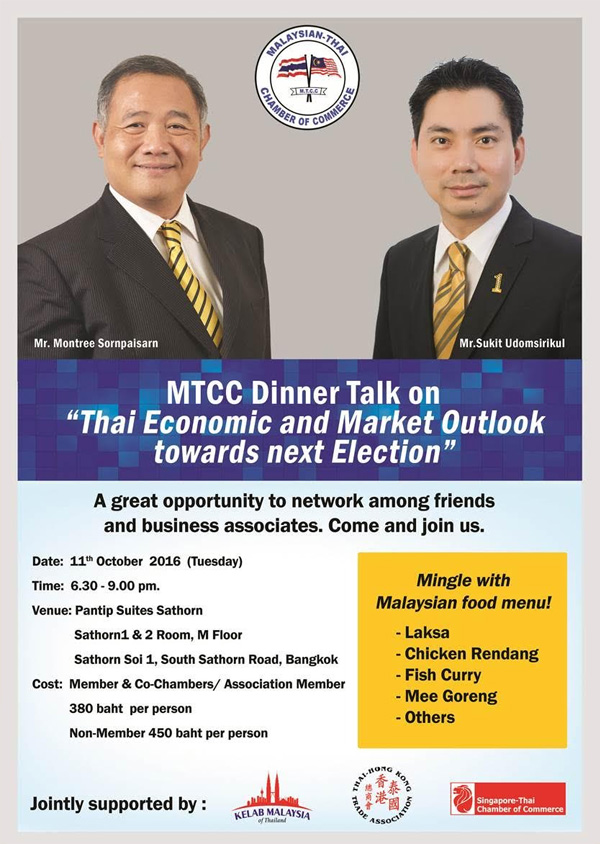 Our speakers (CV enclosed): 
Mr. Montree Sornpaisarn, CFA
is the CEO of  Maybank Kim Eng Securities (Thailand) PLC and a director of the Investment Banking Club of Thailand.
He has many years of working experience in the securities, investment banking and fund management business.
Mr.Sukit Udomsirikul
is the Managing Director and Head of Research of Maybank Kim Eng Securities (Thailand) PLC.
He completed the Certified Investment Securities Analyst (CISA) level 1 program held by the Securities Analyst Association. He is a speaker in investment relate seminar conducted by SET , MAI , AMC, AT