2017-2018 Installation of Board of Directors
The Thai – Hong Kong Trade Association (THTA) Annual General Meeting (AGM) was held on April 27, 2017. At this meeting, 12 members were elected to be the Board of Directors. Subsequent to the AGM, the Board then elected the President, three Vice-Presidents and the Treasurer at the first Board Meeting on May 8, 2017.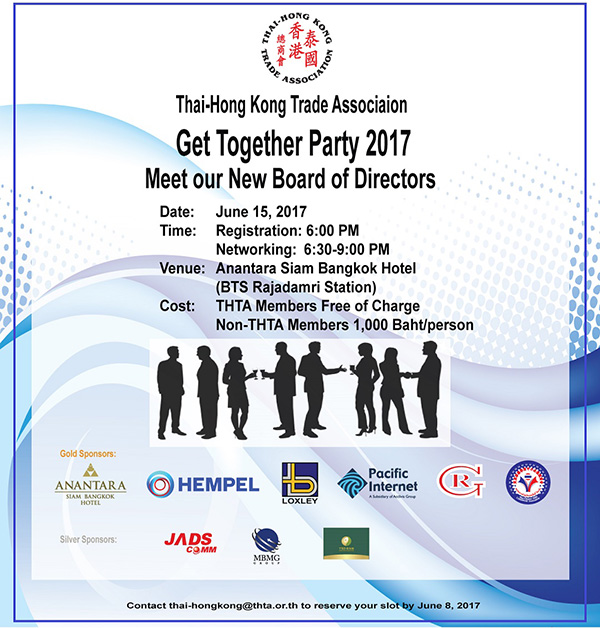 We would like to introduce our Board of directors for 2017 – 2018 to all of you:
President:
Mr. Charlie Chan 陳子文, Target Crown Development Ltd.
Vice Presidents:
Mr. S. K. Kwok 郭兆佳, Meyer Industries Ltd.
Ms. Agatha Lee 李載欣, Cathay Pacific Airways Ltd.
Ms. Christy Yeung 楊春娜, GM Jewelry International Ltd.
Treasurer
Mr. Timothy Wong 黃添德, Loxley Public Co., Ltd.
Directors
Mr. Johnny Seet 薛尊尼, CWS Global Coating Co., Ltd.
Mr. That Shuphaphong 蘇伯文, Thai Rui De Health Management Group Co., Ltd.
Mr. Eric Yu 余聲麟, TT Corporation Co., Ltd.
Mr. Michael Shum 沈 文 强, Jotun Thailand Ltd.
Mr. Henry Choi 蔡佑熾, United Overseas Bank (Thai) PCL.
Mr. Margo Chan 陳漢光, Cargo Class Co., Ltd.
Ms. Caroline Kwan 關英敏, MBMG Corporate Solutions Co., Ltd.
Advisors
Dr. Charles Cheung 張桂發, Cyberdict Technology Ltd.
Mr. Andrew Wong 黃恩敬, Munich Re.
Mr. Kendy Chan 陳錦華, Tozen Industrial Co., Ltd.
Mr. Danny Yu 余永年, JADS Comm Ltd.
Legal Advisor
Ms. Dennie Soong 宋澹宜, PBS Law Ltd.
We would like to welcome all the elected directors and congratulation to the President, Vice Presidents and Treasurer.
On behalf of the Thai-Hong Kong Trade Association, please allow me to take this opportunity to invite you to attend the Installation of our new Board of Directors for the year 2017-2018, on June 15 (Thursday) at 6:30 pm , Venue to be informed soon. It's our tradition that we arrange an annual Get Together Cocktail Party to welcome the new Board of Directors for the year cycle ahead and thank the outgoing Board for their untiring efforts and contributions to our Association and allow members to meet with the new Board of Directors. Your presence will bring a great honor to all of us. Please mark your calendar.
Charlie Chan
President
Thai-Hong Kong Trade Association (THTA)
Sathorn Square, 9th Floor, Room 906, 98 North Sathorn Road
Silom, Bangrak Bangkok 10500 Tel: 02-343-9008-9 Fax: 02-343-9029
E-mail: thai-hongkong@thta.or.th Website: www.thta.or.th
[ Download ] Registration Form 2017
[ Download ] Sponsorship Form_Sponsorship Package 2017
[ Download ] Sponsorship Letter GTP 2017
แผนที่โรงแรม