Dear THTA Members & Friends,
The Thai-Hong Kong Trade Association (THTA), Hong Kong Trade Development Council (HKTDC) and MBMG Group proudly present a Business Luncheon Talk on"Bank Accounts: Big Brother is watching you" on September 27, 2017.
Date: September 27, 2017 (Wednesday)
Time: 11:30 am-2:00 pm
Venue: Crowne 1-3 Rooms, 21st Floor, Crowne Plaza Bangkok Lumpini Park
( BTS Saladaeng, MRT Silom)
Dress code: Business Attire
Price: THB 700 Baht for members of participating chambers/associations
and THB 900 for non-members
"The topic is an overview of the biggest global tax reporting change that has ever been undertaken – CRS (Common Reporting Standards). Thailand will be participating, with the rest of the world (over 100 countries), to implement the mandatory disclosure of all financial accounts by individuals and companies to the government and enabling the automatic exchange of tax and financial information on a global level. This will affect every person and corporation who retain any type of financial accounts in Thailand and/or other countries. The talk will give insights into what is happening already in those countries, such as Indonesia, which have committed to start this reporting in 2018; when and what to expect for Thailand; how it might affect us and how we might be able to plan ahead."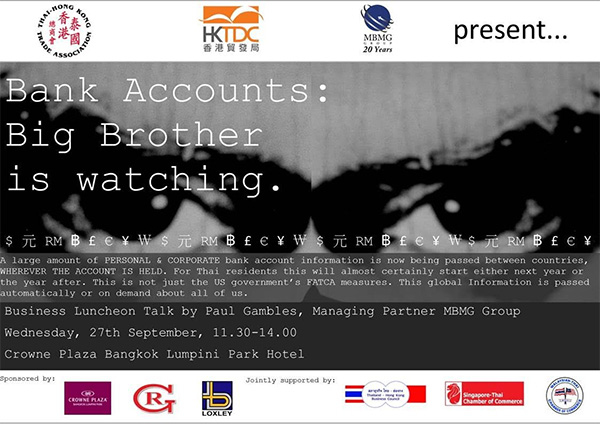 Please find attached the reply form and book your slot soon.
Remarks:
Please make payment by transfer to Thai-Hong Kong Trade Association, Krungthai Bank, Queen Sirikit National Convention Center branch A/C no. 009-1-72633-6.
Important: please note that the Chamber will be enforcing more strictly a policy of invoicing members who book for events but do not make payment and do not show up on the day. The chamber is invariably charged for no-shows and it is not fair for other members if the Chamber were to absorb such charges. If you cannot make an event please let us know in advance and we will do our absolute best to accommodate your circumstances.
[ Download ] Sponsorship Form_Business Luncheon talk
[ Download ] Reply Form_Luncheon Talk September 27
[ Download ] Paul Gambles Short Biography MBMG Group and MBMG IA