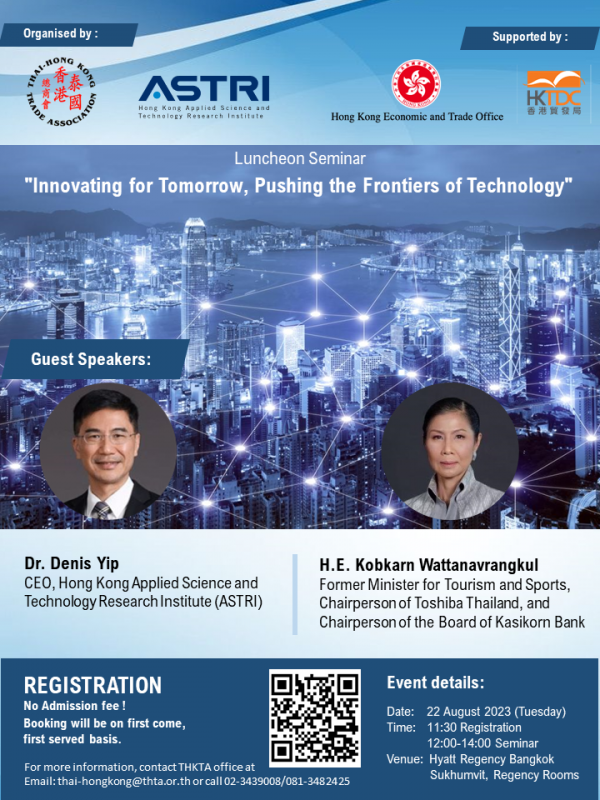 Dear THKTA members & Friends,
You're cordially invited to join our upcoming seminar on "Innovating for Tomorrow, Pushing the Frontiers of Technology" on 22 August 2023 (Tuesday), with H.E. Kobkarn Wattanavrangkul, Former Minister for Tourism and Sports, Chairperson of Toshiba Thailand, and Chairperson of the Board of Kasikorn Bank and Dr. Denis Yip, Chief Executive Officer of Hong Kong Applied Science and Technology Institute (ASTRI) as the guest speakers. They will share with the participants the technology landscape in Hong Kong and Thailand and the opportunities of cross-border collaboration in research and development.
Date: 22 August 2023 (Tuesday)
Time: 11:30 registration
12:00 – 14:00 Lunch and Seminar
Venue: Regency Rooms, Hyatt Regency Bangkok Sukhumvit
Admission: No Admission fee. Booking will be on first come, first served basis.
Register now at https://forms.gle/wUamZh1mvrRtRXjJ6
About ASTRI
Hong Kong Applied Science and Technology Institute (ASTRI) was founded by the Hong Kong Special Administrative Region Government in 2000 with the mission of enhancing Hong Kong's competitiveness through applied research, and promoting commercialisation of R&D results and technology transfer. ASTRI's R&D competence applied across six core areas, including Smart City, Financial Technologies, New Industrialisation and Intelligent Manufacturing, Digital Health, Application Specific Integrated Circuits and Metaverse. Over the years, ASTRI has nurtured a pool of research, I&T talents and received numerous international awards for its pioneering innovations as well as outstanding business and community contributions. As of 2022/23, ASTRI has transferred around 1,400 technologies to the industry and has been granted over 1,000 patents in Mainland China, the US, and other countries.
Best regards,
Thai-Hong Kong Trade Association (THKTA)
Sathorn Square, 9th Floor, Room 906
98 North Sathorn Road, Silom, Bangrak
Bangkok 10500 Thailand
Tel: 02-3439008-9 Fax: 02-3439029