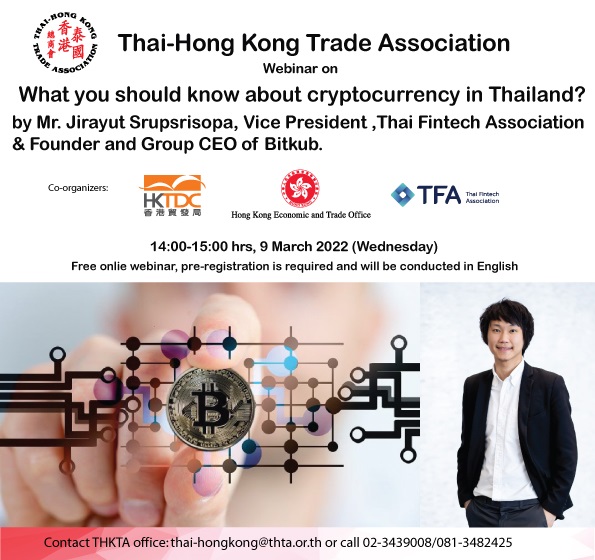 The emergence of innovative fintech solutions presents both opportunities and challenges to businesses, while the growing popularity of cryptocurrencies is also disrupting the financial industry. Join us at the business talk to learn more about:
– Cryptocurrency ecosystem and its development in Thailand
– Global trend of cryptocurrency and its applications
– Related regulations and implications for businesses
Date: 9 March 2022 (Wednesday)
Time: 14:00-15:00 (BKK Time)
Channel: Zoom Webinar (free online webinar and pre-registration is required)
Remarks : Limited seats, on a first come, first served basis
If you are interested to attend this event, kindly register in advance by 7 March 2022.
Please be advised that the registration is arranged on a "first-come-first-served basis" and you will receive a confirmation email which will be personal to you after registering.
For any further inquiries, please kindly contact Khun Piyanan at e-mail: thai-hongkong@thta.or.th or call at 02-3439008.