Dear THTA Members & Friends,
We are pleased to inform you that the Thai-Hong Kong Trade Association (THTA), Malaysian-Thai Chamber of Commerce (MTCC) and Singapore-Thai Chamber of Commerce (STCC) are jointly organizing our "3rd Sing-Ma-Kong Pre-Dinner Special Presentation & Joint Chambers Networking 2017" on Thursday, March 23 at Eastin Grand Sathorn Hotel. Presentation will be on "Cyber Risks and Insurance" by Mr. Rob Russell, Regional Director, Regional Head of Lockton Financial Services (LFS)-Asia Pacific Lockton Overseas Limited.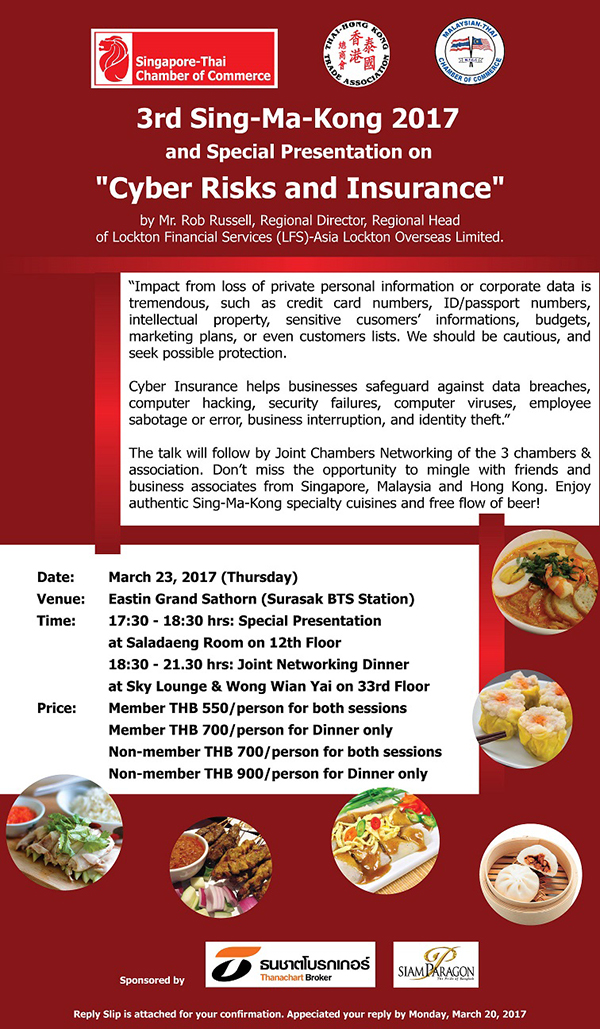 The talk will follow by Networking Dinner with specialty authentic cuisines of Singapore, Malaysia and Hong Kong!
Look forward to welcoming you at our 3rd Sing-Ma-Kong!