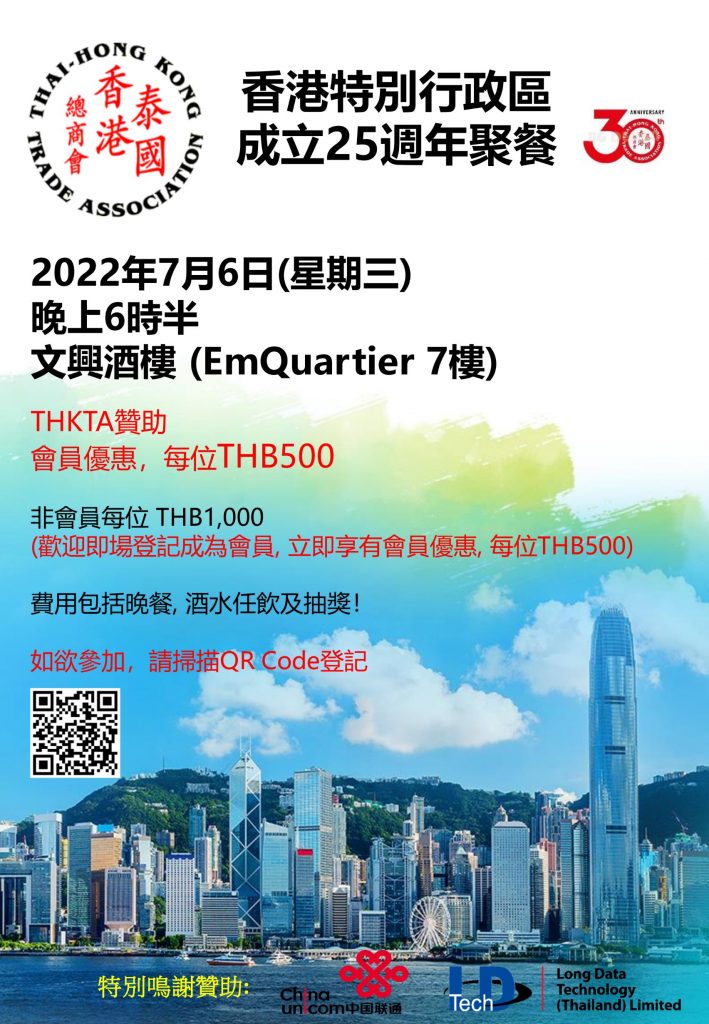 HKSAR 25th Anniversary Casual Dinner Gathering on 6 July 2022
Thai-Hong Kong Trade Association organized a dinner gathering for members and HK friends in Four Seasons Chinese Restaurant- at EmQuartier. The party was well attended by 60 members and guests to celebrate this important milestone of HKSAR.
THKTA members and guests enjoyed delicious Chinese food, mingled happily with friends and made new contacts. They also had a chance to support THKTA fundraising for charity projects and won lucky draw prizes.This event was supported by China Unicom Operations (Thailand) Limited, Comnatz (Thailand), ,JADS Comm Ltd., and Long Data Technology (Thailand) Ltd.
香港特別行政區成立25週年聚餐 2022年7月6日
由泰國香港總商會籌辦,於文興酒樓 (EmQuartier 7樓),舉行了"香港特別行政區成立25週年聚餐" 。當晚聚餐共有60位會員及嘉賓一起參加,大家不但能夠享受美味的中式晚餐,更可以在宴會上廣交朋友,恰談商機。本會在現場安排了慈善福袋義賣,為本會慈善基金籌募捐款,在此多謝各位善長人翁的慷慨解囊。本聚餐的高潮便是幸運大抽獎,氣氛熱烈,場面熱鬧,各位來賓都滿載而歸,過了一個歡樂難忘的晚上。最後,此次活動能夠舉辦成功,實在有賴以下的公司會員的鼎力支持,包括: China Unicom Operations (Thailand) Limited, Comnatz (Thailand), ,JADS Comm Ltd., and Long Data Technology (Thailand) Ltd. 本會衷心感謝。